ROTAMEC 4BBB OPEN (Men & Ladies)
Saturday 11th September 2021, White & Red Tees, Wells Golf Club
(85% handicap allowance)
Wells Golf Club 'Rotamec' sponsored 4BBB competition on Saturday 11th September attracted a strong field of 164 competitors. The event was played in glorious sunshine to the delight of everyone involved, after 12 holes the players were greeted at the Green Room for refreshments provided by Jan Hayward and her team.
With prizes for home and visitors alike the competition was keenly contested by all with some excellent scores.
Teams came from far and wide to enjoy the day, after the event visitors enjoyed a meal from the bar and restaurant and a drink or two from the balconies to watch the players coming in.
There were eleven prizes for visitors and members with scores ranging from 48 to 44 points.
The winning visitors score of 48 points came from Sam Hardwick and Darren Carter from The Bramshaw Golf Club.
The winning score for the home team came from father and son combination of Steve and George Barrow-Stacey with a commendable score of 47 points.
The best mixed prize went to Cath Levell and Graham Hall from Wells with 44 points.
There were 18 two's. Sadly 2 players had not entered the sweepstake. Elliott Howell, Sherborne GC, had 2 Two's, include one on the par 4 6th.
Wells Golf Club would like to take this opportunity to thank our very generous sponsors for the day 'Rotamec Engineering Solutions' based in Cheddar, they focus on motor rewind and electro-mechanical repairs, evolving and encompassing new technology.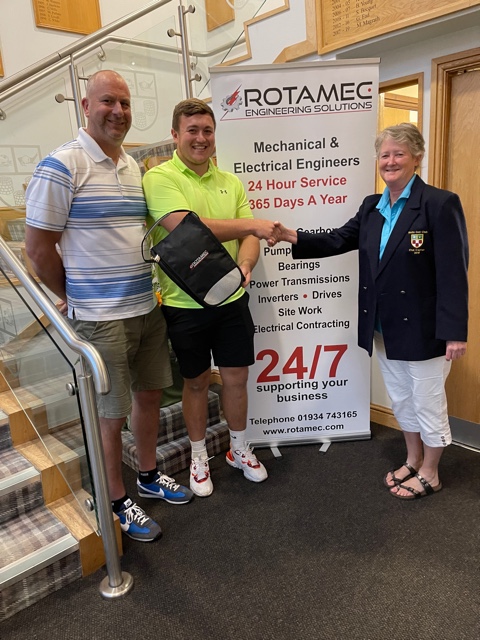 Team
Nett Results
1st
Sam Hardwick (10) & Darren Carter (8)
48
2nd
Neil Maggs (20) & Scott Parsons (24)
48
3rd
George Barrow-Stacey (10) & Steve Barrow (10)
47
4th
Chris Boorer (15) & Sean Murphy (18)
47
5th
Elizabeth Bryant (9) & Malcolm Gapper (23)
46
6th
Simon Elliott (7) & Grant Rogers (13)
46
7th
Michael Metcalfe (9) & Clive Copp (10)
45
8th
Michael Vincent (13) & John Baker (17)
45
9th
Peter Walker (17) & Simon Jackson (10)
45
10th
Catherine Levell (19) & Graham Hall (12)
44
11th
Jeff Boorer (15) & Alan Grimshaw (11)
44
12th
Mike Bell (16) & Scott Dennison (9)
44
13th
Keith Holman (19) & Paul Lamb (12)
44
14th
David Holland (13) & Robert Coate (15)
44
15th
Paul Sheridan (9) & Mark Goodwin (17)
43
16th
Elizabeth South (13) & Terry South (17)
43
17th
Jack Griffin (7) & Elliott Howell (2)
43
18th
Timothy Taylor (10) & Nigel Pring (5)
43
19th
Darryl Beecham (16) & Paul Toghill (16)
43
20th
David James Kee (15) & Tony Lewis (14)
43
21st
Philip Spring (13) & Richard Sheard (20)
42
22nd
Jeanne Leader (20) & Sue Ensell (23)
42
23rd
Roger Burns (21) & Craig Brennan (9)
42
24th
Justin Draper (14) & Emily Draper (35)
41
25th
Gerald Ramsell (18) & Dietrich Martini (20)
41
26th
Ken Mitchell (16) & Peter Tibbs (16)
41
27th
Mark Newberry (14) & Neil Mansey (15)
41
28th
Scott Roberts (10) & Mark Vincent (12)
41
29th
Darren Barnett (9) & Bryan Ashton (15)
41
30th
John Ward (14) & Dave Jones (16)
41
31st
Adrian Rendle (13) & Paul Brown (10)
41
32nd
Gary Stone (2) & Sandi Perry (29)
40
33rd
Kevin Snook (15) & Julian Lampert (16)
40
34th
Colin Genge (20) & Rich Genge (17)
40
35th
Katrina Foote (24) & Bill McCollum (12)
40
36th
David Fahy (15) & Steve Atkins (23)
40
37th
Martin Barnes (10) & Phil Leonard (15)
40
38th
Michael Bailey (13) & Michael Currell (17)
40
39th
Anthony Harrison (24) & Michael Magrath (16)
40
40th
Kerry Harding (24) & David Atkin (18)
39
41st
Mark Disney (23) & Simon Hearne (27)
39
42nd
Victor Rossiter (19) & Rob Rossiter (9)
39
43rd
Aaron Adamson (15) & Chris Eames (10)
39
44th
Martin Blatchford (12) & Kevin Down (11)
39
45th
Gary Nutt (10) & Clifford Hopkins (16)
39
46th
Jim Saint (19) & Colin Payne (19)
38
47th
Paul Cox (15) & Geoff Spinks (24)
38
48th
David Cunningham (16) & Aaron Thurston (12)
38
49th
John Humphrey (10) & Sue Morrell-Weatherill (21)
38
50th
Steve Jones (20) & Kevin Saunders (12)
38
51st
David Hayward (10) & Kevin Lane (4)
38
52nd
Steven Hall (16) & John Ollerton (11)
38
53rd
Ian Baldwin (21) & Tony Wiseman (16)
37
54th
John Hayter (23) & Paul Collins (20)
37
55th
Ronald Gay (13) & Ian Nicol (13)
37
56th
Simon Childs (18) & Stuart Glanville (15)
37
57th
Peter Ramsay (20) & Diane Ramsay (27)
37
58th
Anthony Baker (21) & Barry Keys (20)
37
59th
Clay Poynton (17) & Annette Poynton (20)
37
60th
Sean Woodward (16) & Mike Wright (18)
36
61st
Alan Obern (12) & David Sheppard (15)
36
62nd
Ian Fraser (16) & David Bloor (18)
36
63rd
Steve Mohide (28) & Ryan Bartlett (10)
36
64th
David Magrath (15) & Magrath Peter (16)
36
65th
Robert Hegarty (15) & Bob Lench (16)
36
66th
Mark Hill (16) & Andrew Wood (10)
36
67th
Danny Guyatt (12) & David Trevor King (11)
35
68th
Martin Rich (21) & Paul Moody (27)
35
69th
Kevin Perryman (10) & David Davies (27)
35
70th
Simon Harris (22) & Steven Guy (22)
35
71st
Emma Smith (26) & Jan Olive (29)
34
72nd
Richard Ashby (21) & Andie Ashby (36)
34
73rd
Emlyn Beal (20) & Clive Fowler (20)
34
74th
Kevan Davis (19) & Adam Pullen (12)
34
75th
Paul Munday (12) & Mark Smith (16)
33
76th
Jamie Tucker (21) & John Cook (28)
33
77th
Guy Timson (16) & William Levell (28)
33
78th
Malcolm Tanner (14) & Angela Tanner (36)
32
79th
Steve Egmore (15) & Tony Church (23)
30
80th
Michael Townend (27) & Dylan Meredith (26)
29
81st
Geoff Knight (23) & Derek Biggs (27)
28